Check out Part 1 of my bold predictions here
6. The Mets make the playoffs and Noah Syndergaard wins the Cy Young,
This one pains me in many ways. First of all, I can never forgive the Mets for 2015. They utterly dominated the Cubs in the NLCS, and it looked like it was going to be a slugfest between the two teams for years to come. The Cubs had the young offense, the Mets had the young pitching, which approach was the better plan? Well, we found the answer to that question with a Cubs World Series and three consecutive NLCS appearances. But the Mets are back this year, and they are back in a big way. When healthy, Noah Syndergaard is the best pitcher in baseball (@ me. I'll take this fight any day). Syndergaard averaged 99.6 MPH on his fastball (THAT WAS HIS AVERAGE). His slider averaged 93.2 MPH. That's right, Noah Syndergaard throws his slider 6 MPH faster than Kyle Hendricks throws his fastball.
(LOL good luck hitting that)
Just for fun, his changeup averages 91. If healthy, he is nearly unhittable. For his career opponent's have batted .233 against Syndergaard. His career K/9 is 10.3 with a career 1.9 BB/9. All he needs to do is stay healthy, and we are going to see a historic season from Thor.
With Thor leading the way and another ace in Jacob DeGrom helping to front the rotation, the Mets have arguably the strongest 1-2 in all of baseball. But health in the rotation is going to be a huge question mark. They added Vargas, who is already hurt, and are hoping for healthy bounce back seasons from Steven Matz, Matt Harvey, and Zach Wheeler. They do have nice rotation depth with guys like Seth Lugo and Robert Gsellman. Overall, the pitching staff from 3-5 should be serviceable and when coupled with two aces at the top, the Mets can win a lot of games with their pitching.
Healthy pitching will be key if the Mets want to get back in the playoffs, but they need a healthy offense, too. Yoenis Cespedes is a breaker of baseballs, but he too has injury issues and was limited to just 81 games last year. Michael Conforto was a breakout star for the Mets last year before he, shockingly, hurt his shoulder and only played in 109 games. He is progressing nicely in his rehab, and although he will miss the start of the season, he shouldn't be out too long. When they are healthy, that outfield is going to be lethal with the addition of Jay Bruce. They also added Todd Frazier and Adrian Gonzalez who should provide some nice offense and veteran leadership for the young guys looking to contribute like former top prospect Amed Rosario. If the Mets can stay relatively healthy and make a couple of moves to shore up the rotation and lineup, they can definitely be a playoff team.
7. Vladimir Guerrero Jr. makes it to the big leagues this year and helps push the Blue Jays into the playoffs
Vladimir Guerrero Sr. was just elected into the MLB Hall of Fame. He had 2590 hits, hit 449 home runs, and slashed .318/.379/.553 for his career. Guerrero had a rocket arm, and he is well known for giving us swings like this: But it is his son who is making noise right now. Vladimir Guerrero Jr. shot up prospect rankings last season landing as high as number 3 on MLB Pipeline and Baseball America. And you can see why. The 19 year old slashed an insane .323/.425/.485 between A and High A ball last year. At 18 years old last year, he was roughly 3.8 years younger than the average competition he played against. The Blue Jays haven't announced where Vladdy Jr. will start the year, but it could easily be in AA since he hit even better in High A last year than A ball, and it would seem like a waste to send him back there. Starting AA this year at 19 years old makes the majors seem like a long shot, but this kid is so good. I think he is going to force the Blue Jays' hand. We will see him move up to AAA before the midway point of the season, and then with the Jays battling for a playoff spot come September, they are going to shoot Junior to the majors to try and push them over the edge. The Blue Jays currently play in the most insane division in baseball. The AL East just added the best slugger in baseball last year and Giancarlo Stanton (go look up what JD Martinez did last season in 119 games). The Yankees and Red Sox are juggernauts. With strong lineups, powerful rotations, and dominant bullpens, they are both going to be hard to pass. The Orioles lack some pitching, but they aren't pushovers and the Rays always find a way to contend. The bloodbath that is the AL East is going to provide tough competition for the Jays and with a tightening playoff window and Josh Donaldson's free agency looming, they are going to need to do something bold to sneak into a playoff spot. Cue Vlad Jr.
8. Billy Hamilton finally gets 60 steals
Not bold enough? He's had 56, 57, 58, and 59 stolen bases the past 4 seasons, but fine, not only does he break 60, he breaks 75. The only thing stopping Hamilton from stealing bases is his struggle with actually getting on base. Hamilton reached base 188 times last year and stole 59 bases. That means about ⅓ of the time he reached base, he recorded a steal (that's a rough statistic since sometimes he stole two bases or pinch ran for someone). At that rate, if he can reach base 250 times, he should get to 75 steals. 250 seems like a lot more than 188, but for his career he has an even better stolen base rate than what he did last season. In 2016, Hamilton reached base 144 times and stole 58 bases for a rate of 40%. If Hamilton had stolen bases at the same rate in 2017 as 2016, he would have stolen 75 bases last year. Hamilton still only played in 139 games in 2017. Part of that was due to injury and part due to ineffectiveness, but it was actually more games than he played in 2016 (119) and 2015 (114). Last year was a disappointing year for Hamilton. People expected him to take a step forward, but he saw his average and on base percentage dip, but that was not helped by his .313 BABIP. For a player as fast as Hamilton, .313 is relatively low. For perspective, Dee Gordon's BABIP last year was .354. This will be Hamilton's 5th full season in the majors, and he is still only 27 years old. If he can improve his rate of contact, draw a few more walks, stay healthy, and get back to stealing bases at his 2016 and 2015 rate, I think this is the year he puts together that insane stolen base season we have all been waiting for.
9. The Yankees have 4 guys who hit 35 homers AND Greg Bird leads them all
The Yankees offense is going to be historic this year. I don't think that is a very bold prediction. They have Aaron Judge (52 homers last season), Gary Sanchez, (31 homers in just 122 games), and added Giancarlo Stanton (59 homers last season). That. Is. Insane. But I think it is Greg Bird that's going to shock people this year. Bird took the world by storm last year during Spring Training when all he did was hit bombs. He was a common pre-season choice for breakout player of the year and was poised to bash in the middle of the Yankees lineup. However, an ankle injury at the end of Spring Training stopped the Greg Bird train in its tracks. He tried to play through it at first and was horrendous. Bird had 72 plate appearances, hit 1 homer, and slashed an embarrassing .100/.250/.200. A month into the season, he finally elected to have ankle surgery which risked him missing the rest of the 2017 season. Bird came back on August 26th and proceeded to hit 8 homers in 29 games. He had 98 plate appearances over that time which, when extrapolated out to 600 at bats, is a 49 homer pace. During that time, Bird slashed .253/.316/.575 also known as a lot better than what he did at the start of the season. Not only did he mash to close out the season, but he was a beast in the playoffs as well slashing .244/.426/.512 with 3 homers in 13 games including this bomb off of Andrew Miller: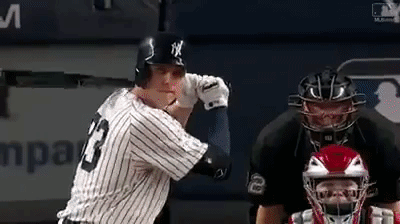 A healthy Greg Bird has a few advantages that I think can lead him to the top of the Yankees home run list. First of all, he is a lefty, and the new Yankee stadium is a joke for left handed hitters. Second, no one wants to pitch to Stanton, Judge, or Sanchez. Well, who does that leave to pitch to in the middle of that lineup? Greg Bird, that's who. And third, we are likely going to see some regression from the big guys Stanton and Judge, and, as a catcher, Sanchez just won't play as much. This one may be bold, but I think he if can stay healthy, he has a real shot at leading that team in homers. Either way, the Yankees are going to be hitting a ton of dingers this year, and remember, the Bird is the word. 
10. The Brewers miss the playoffs and don't come particularly close
I actually didn't think this was much of a bold prediction until the Brewers added Cain and Yelich, but I am going to stand by it. The Brewers overperformed last year and competed for a Central title and a Wild Card spot for nearly the whole season missing the playoffs by one game. They made two great additions in Cain and Yelich, and they look like they are poised to challenge the Cubs for the Central crown. However, I am here to tell you that it just isn't going to happen (and I am going to do it with as little Cubs bias as possible!). The Brewers were able to contend last year for a couple of reasons, the first being a bunch of their players outperforming their projections by a significant amount and the second being the decline of the Pirates and Cardinals. Now, sadly (although not so sadly as a Cubs fan) the Pirates seem to have embraced their decline and have jump started rebuild mode again (it really must suck to finally put together a competitive team in the same window as the best Cubs team in decades, ouch).
But the Cardinals got better. A whole lot better. We will get to that in a minute. First, a look at some of the over performances from guys like Domingo Santana, Travis Shaw, Eric Thames, and basically the entire Brewers pitching rotation. The Red Sox traded Travis Shaw after he disappointed in his first full season with the team for a relief pitcher. Shaw then went on to hit 31 homers and double his WAR from the season before in the same amount of games. There are not too many signs that he is heading towards a significant decline in production from the previous year, but ZiPS projects a WAR of 2.4 in 2018 compared to the 3.4 he put up in 2017. Speaking of career years, Domingo Santana exploded in his first full season hitting 30 homers and slashing .278/.371/.505. He had a strong 12% walk rate but a terrible 29% K rate. His BABIP was absurdly high at .363 and again ZiPS projects a regression from the 3.3 WAR he put up last year down to 2.0 for 2018. Finally, on the offensive side, you have the man who took the baseball world by storm the first two months of the season – Eric Thames. Thames was unbelievable to start the 2017 season, hitting 14 homers in the first two months of the season. He was pretty much an average hitter from June 1st on and with the new additions to the Brewers squad, he might find playing time tough this year. Thames also had an unsightly 29% K rate last year as well and is unplayable against lefites. Between Santana, Thames, Keon Broxton, and Jonathan Villar the Brewers will often put out lineups with 4 starters who struck out almost 30% of the time which is not ideal. Yelich and Cain certainly will help in that area, and overall the offense should perform above average, but it doesn't compete with the Cubs lineup and is not nearly good enough to overcome the pitching especially after shoulder surgery for Brewers' ace Jimmy Nelson.
The Brewers project to run out a rotation of Chase Anderson, Zach Davies, Jhoulys Chacin, Brent Suter, and Junior Guerra to start the season. Chase Anderson finished the season last year with a 2.74 ERA or a full run and a half lower than his career best. The peripherals show serious signs of regression. Anderson had an 80% left on base percentage (league average is about 70%), a 39% ground ball rate which would have been the 10th worst in baseball if he had qualified, and a .265 BABIP. As the "ace" of the staff, Anderson does not provide much confidence. Behind Anderson the Brewers will be throwing Davis, a dependable starter but nothing special (career ERA 3.90), Chacin, who is projected for a 4.77 ERA from ZiPS, Suter, who has thrown 103 career innings, tops out at about 86, but does have a funky delivery that is hard to hit, and Junior Guerra who was a surprise in 2016 but then only threw 70 innings last year and was absolutely terrible. They do have Josh Hader in their pen (who should be in the rotation at some point this season), and Corey Knebel who was absolutely filthy last year, but that is not nearly enough to save the rotation. The Cubs are still a far superior team running out Lester, Darvish, Quintana, and Hendricks who would all be the number 1 starter on the Brewers team, and the Cardinals look very formidable this year with the addition of slugger Marcell Ozuna, the underrated Tommy Pham, and a rotation headed by Carlos Martinez who can be one of the best starters in baseball on any given night. Plus the eventual return of future ace Alex Reyes. In addition, the Cardinals have a much stronger 2-5 and a bunch of near major league ready pitching in Luke Weaver (3.88 ERA in 10 starts last year) and Jack Flaherty (20 strikeouts in just 13 innings so far this spring). The Cardinals and Cubs are going to be battling for that top spot in the Central with the Brewers trailing behind. With fierce competition for the two Wild Card spots in the National League, the Brewers are poised for a disappointing season.
Thus concludes my epic bold predictions for 2018. Feel free to comment any disagreements, I'm always up for good debate! And look for my predictions for the 2018 standings and major award races coming soon…