I set a goal to read 40 books over the course of 2018. I made it to 39 and was halfway through number 40 when the New Year came around, so I think that is a pretty solid year of reading. I've sifted through and pondered each story I read and picked 5 (with a couple of honorable mentions) that I really enjoyed. Without further ado, my favorite books that I read in 2018:
Honorable Mention:
Neverwhere (1996) by Neil Gaiman
Sing, Unburied, Sing (2017) by Jesmyn Ward
5. Old Man's War (2005) by John Scalzi
I am a huge science fiction fan, but for some reason I had not read much Scalzi before this (last?) year. I took care of that by reading nine Scalzi novels this year. The Old Man's War series was probably my favorite (I read 4 of the 6 full length novels so far), but I really enjoyed Lock In and Head On, as well as The Collapsing Empire books. Ironically, my least favorite was probably Redshirts which won the Hugo award in 2013. Old Man's War follows John Perry who, like many 75 year olds, joins the army, known as the Colonial Defense Force. He is sent into space, given a new and enhanced body, and sent off to kill aliens. This story opens up a world of planets, species, and adventures that are fun, creative, and interesting. Scalzi creates a brand new and complex universe that feels plausible, and that is one of my favorite aspects of science fiction. You want to know more about the characters, especially the aliens, and that keeps you reading.
4. The Wise Man's Fear (2011) by Patrick Rothfuss
Ok, admittedly, one of the reasons this isn't higher on my list is that I was angry when I finished it, because I know the third book wasn't out yet and I want to get back to this world ASAP. The flashback nature and foreshadowing of Kvothe's story is what intrigues me the most. He is a worn down, lowly innkeeper as he tells his story, but his story is a build up of his greatness. At some point everything will have to come crashing down, and I'm intrigued to see how it will happen. Rothfuss has also stated that the three books in the story are more like a prequel, so it will be exciting to see how the third book transitions into the current time period where Kvothe is telling the story and struggling.
3. Children of Blood and Bone (2018) by Tomi Adeyemi
One of my goals in 2018 was to read more books by diverse authors. I didn't feel like I accomplished this as well as I could have, but I am adding it to my reading goals for 2019. Children of Blood and Bone was an extremely fun story. A story based in African mythology, I loved Adeyemi's world that she built. The next book in the series Children of Virtue and Vengeance is due out in March, and it will be exciting to see how the story continues. The dynamic between the main character Zélie and the prince chasing her, Inan, was extremely compelling. Zélie, similarly to other characters in the books I enjoyed this year, is another strong yet flawed protagonist. For many of these characters, they put themselves in perilous situations due to their flaws, but they grow and change and become the person they are destined to be. This book had one of my favorite covers of the year as well.
2. Scythe (2016) by Neal Shusterman
A young adult novel centered around the legal murder of people. How's that for an intro? In Neal Shusterman's future world, humans have conquered death. It is Giver-esque in the way that people don't feel pain, no one is starving, or thirsty. But that's because Scythe's are there to help curb the population. Scythe follows the story of Rowan and Citra, who are chosen to be apprentices to a Scythe. They must learn the art of killing, yet master the why of it as well. Scythe is an emotional rollercoaster that has you questioning right and wrong, fair and unfair, as well as whether we even should try, as a society, to become masters of death. Shusterman leaves you wanting more, and Thunderhead was released in 2018 as the follow up to Scythe. Another on my to-be read list for 2019. Scythe was the first Shusterman novel I had read, and it made me want to check out some of his other works. I read Dry, written with his son Jarrod, but I did not enjoy that nearly as much as Scythe, and I don't recommend it.
1. The Red Rising Trilogy (2014) by Pierce Brown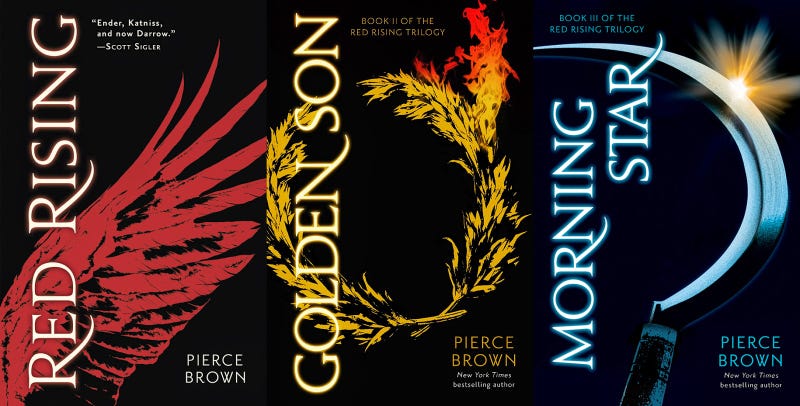 There are two more books in this series after the conclusion of the original trilogy, but Morningstar (Book 3) closes out the first arc in Darrow's story. Book 4, Iron Gold, is on my to-be read list for 2019, but it continues the story some ten years after the conclusion of book 3. One of the most frequently asked questions about reading and writing is what makes a good story? Plot is important of course, but the true draw of a great story is character. If a character is boring, then it doesn't matter how good the plot is, the story just won't be interesting. Darrow is one of my favorite characters. Some criticism I've read regarding Darrow is that he is too perfect, or he is too good at everything, he's a wunderkind and that's boring. But that's not how I see Darrow. He is extremely flawed, and that is what makes him so compelling. I want to avoid any spoilers or details about the book, because if you like science fiction, I highly recommend reading it, but Darrow's rises and falls (there are many throughout the book) is what drew me in. He is intelligent, inspirational, and driven. But that's also his flaw. He is dependent on his friends and allies throughout all three novels, and that idea is central to the very nature of the story. I found myself feeling emotionally invested in Darrow's fight, and an emotional connection to a story and a character is what makes reading so incredible. I never wanted to leave Darrow's world and always wanted more. In short: Read this book.
Last year was my best year of reading. I'm looking to top it in 2019 by reading 52 books. Any recommendations of good books is much appreciated! I finished my first book of the year yesterday so off to a good start. Some of the books I'm looking forward to reading in 2019 include:
Iron Gold and Dark Age by Pierce Brown, How Long 'til Black Future Month by N.K. Jemisin, Fire & Blood by George RR Martin, Forever and a Day by Anthony Horowitz, Art Matters by Neil Gaiman, Children of Vengeance and Virtue by Tomi Adeyemi, The Hate U Give and On the Come Up by Angie Thomas, The Tattooist of Auschwitz by Heather Morris, Bridge of Clay by Markus Zusak, Year One by Nora Roberts, Thunderhead by Neal Shusterman